Guide to the Seasons and Months in Australia
FEATUREDLEISURE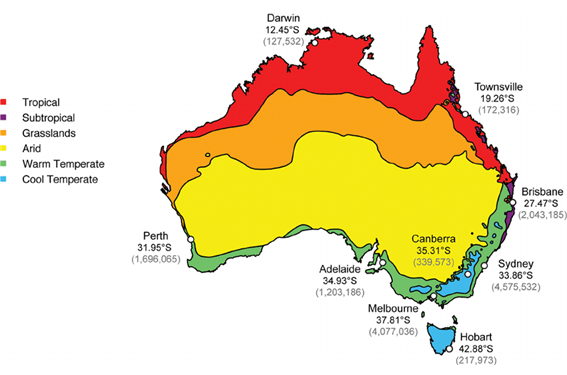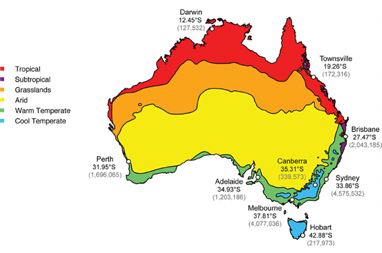 Discover Australia's unique seasons with our detailed guide. Learn about climate variations and enjoy seasonal activities with our comprehensive travel tips.
Australia is a huge land mass with a whole range of climates, seasons, and their months that vary across the country. Because it sits in the Southern Hemisphere, seasons and their months in Australia are the exact opposite of those in the Northern Hemisphere. This means that July is winter in Australia and December is summer, so there's no such thing as a white Christmas down under!
In this detailed guide, we will look at the seasons and their months in Australia, how these can differ across the country, and which activities to get involved with at which times of the year. Whether you are planning a trip to Australia from overseas, holidaying interstate, or travelling around following seasonal fruit-picking work, this is the guide for you.
Table of Contents:
What is the climate in Australia?
Australia experiences a wide range of climates, from tropical and arid to temperate climates. Have a look at these in the image below:
The northern part of Australia has a tropical climate and includes the capital city of Darwin in the Northern Territory. This is a place of high humidity and high temperatures that only experiences two seasons rather than the typical four: a wet season and a dry season. During the wet season, you can expect extreme monsoon rains and thunderstorms with hot humid temperatures and tropical cyclones, while during the dry season, there is little rainfall and cooler temperatures with low humidity.
Below this lies the central northern part of Australia. This is a grassland region characterised by low rainfall, hot temperatures, and sparse vegetation that includes Alice Springs in the Northern Territory, home to Uluru or the famous Red Centre. Here, you can find scorching hot summers and sunny warm winters. A subtropical climate can be found along the east coast, including the capital city of Queensland, Brisbane. This is a place of warm and humid summers and dry but warm winters, meaning that winter rather than summer is the best time to visit Brisbane!
The remaining major Australian cities fall within either a warm or cool temperate climate. Here, there is no longer only a wet or a dry season but the four typical seasons of summer, autumn (or fall), winter, and spring can all be found. Whether you are visiting Perth, Adelaide, Melbourne, Sydney, Hobart, or Canberra, you can expect moderate rainfall with both hot and cold temperatures across the year.
What are the four seasons in Australia?
Aside from the tropical northern regions that have only a wet and a dry season, Australia experiences four distinct seasons: summer, autumn (or fall), winter, and spring. These vary greatly across the continent due to its vast size and diverse geography. They also happen at opposite times to those in the Northern Hemisphere: summer is December to February, autumn (or fall) is March to May, winter is June to August, and spring is September to November.
Summer in Australia (December – January – February)
Summer in Australia happens from December to February and is characterised by warm sunny days and longer daylight hours. Temperatures typically hover between 25ºC and 35ºC making it a popular season for outdoor activities, spending time at the beach, and festive celebrations.
If you are looking for things to do during the Australian summer, try some of these ideas:
Head to the beach.
- With its beautiful coastline, Australia is renowned for its stunning beaches. The Australian summer is the perfect time to soak up the sun and try out some summer sports or water activities. Find a beach near you, slop on some sunscreen, and enjoy! Popular beaches to try out include Bondi Beach in Sydney, Cottesloe or Scarborough Beach in Perth, and St Kilda Beach in Melbourne, to name just a few.
Attend an outdoor festival or event.
The Australian summer is packed with vibrant festivals, concerts, and sporting events. From New Year's celebrations and Australia Day festivities to music festivals and cricket matches, there are numerous opportunities to enjoy the lively atmosphere and entertainment.
Outdoor dining and barbeques.
Australians love to gather for barbeques and outdoor meals during summer. Parks, picnic areas, and backyard gatherings become the perfect setting to enjoy a delicious barbeque feast or a casual picnic with family and friends.
Autumn in Australia (March – April – May)
Autumn (or fall) in Australia happens from March to May. Summer fades into autumn slowly, with pleasant temperatures ranging between 15ºC and 22ºC in the early autumn months. During this time, the summer heat begins to subside, and the temperatures slowly cool down to make way for the colder winter months. The resulting pleasant and mild weather makes autumn a popular time for outdoor activities such as hiking, picnics, and enjoying the colourful foliage as some regions' landscapes turn various shades of red, orange, and yellow. This is also the prime time to check out food, harvest, and arts festivals happening across Australia.
If you are looking for things to do in autumn in Australia, check out some of these ideas:
Visit a farmer's market or attend a festival.
- Autumn is a season of harvest, and farmers' markets are brimming with fresh produce. Take this opportunity to explore local markets, buy seasonal fruits and vegetables, and support local farmers. You can also check out the Noosa Food and Wine Festival in Queensland, the Melbourne Food and Wine Festival in Melbourne, or the Adelaide Festival or Adelaide Fringe in Adelaide.
Explore nature.
- Take advantage of the pleasant temperatures and go hiking or bushwalking in a local national park. Enjoy the vibrant colours of the autumn foliage and the beauty of nature as you walk along the beautiful trails and take in the scenic landscapes.
Attend a sporting event.
- Autumn marks the beginning of the Australian Football League (AFL) season. Catch a game and experience the electrifying atmosphere of this popular Australian sport.
Winter in Australia (June – July – August)
Winter in Australia happens from June to August. During the winter months, the country experiences cooler temperatures that come with the opportunity to experience the best of both worlds. On the one hand, areas like the Snowy Mountains in New South Wales and the Australian Alps in Victoria and Tasmania, provide the perfect places to experience snowfall and get busy with some winter sports like skiing and snowboarding. On the other hand, northern regions in the Northern Territory, Western Australia, and tropical north of Queensland, are experiencing cooler temperatures that provide the perfect time to visit attractions like Uluru, Broome, and Cairns. So, if you are wintering in Australia, expect a whole range of experiences, from cosy indoor activities to exploring winter landscapes and participating in cold-weather sports and events!
Here are some ideas of things to do in winter in Australia:
Go skiing or snowboarding.
- Head to the snowy regions of New South Wales, Victoria, or Tasmania and enjoy some skiing or snowboarding down the slopes.
Enjoy a hot spring.
- Relax and unwind in a natural hot spring, such as the Peninsula Hot Springs near Melbourne or the Blue Mountains Sparadise in New South Wales. Soak in the soothing mineral-rich waters while being surrounded by stunning landscapes.
Explore a rainforest.
- Winter is the perfect time to visit a tropical rainforest because they become lush and vibrant during the winter months. Enjoy a walk, hike, or some wildlife spotting as you move through this beautiful tropical environment.
Spring in Australia (September – October – November)
Spring in Australia happens from September to November. Like many other places in the world, spring in Australia is a season of renewal and rejuvenation as nature comes alive with blooming flowers, vibrant colours, and increased biodiversity. During these months, the weather begins to warm up and the days gradually become longer. Spring is an excellent season to engage in outdoor activities and enjoy the pleasant temperatures before the heat of summer comes around again.
If you are looking for things to do in spring in Australia, give some of these ideas a go:
Visit a garden or park.
- Go on an outing to your local botanical garden, public park, or nature reserve to witness the beautiful spring flora and fauna. Take a leisurely walk, have a picnic, or simply appreciate the colourful displays of flowers and blossoming trees.
Go wildlife spotting.
- Spring is the perfect time for wildlife enthusiasts, as many animals become active during this season. Go birdwatching, join a whale-watching tour, or visit a wildlife sanctuary to observe native animals in their natural habitats.
Do some gardening.
- Whether or not you have a green thumb, spring is the perfect time to get your hands dirty in the garden. Plane some flowers, herbs, or vegetables and enjoy the process of nurturing and watching them grow.
FAQS
What is the best season to visit Australia?
The best season to visit Australia will vary depending on the state or city you want to visit, your personal preferences, and the specific experiences you are looking for. Australia's vast size and diverse climates offer different attractions and activities throughout the year. Ultimately, it is up to you to consider the weather, tourist crowds, and specific attractions or events you want to experience when deciding what season to book your trip!
Should I worry about seasonal natural hazards in Australia?
It is important to note that Australia is prone to natural disasters such as bushfires, droughts, floods, and cyclones, which can significantly impact local climates and weather patterns. Always check local weather forecasts and news updates when travelling to any Australian state, territory, or city.
Conclusion
When it comes to seasons and months in Australia, there is no one size fits all approach to the whole country. Depending on where you are, you can expect either a wet or dry season or a variation of the typical four seasons and their months: summer, autumn (or fall), winter, and spring. But regardless of season or month in Australia, rest assured that there will always be an interesting activity, event, or place to visit!